Ah yes, E3! Gaming's grandest showcase.  For 3 glorious days in June, the video game world shifts it's attention to Los Angeles where all the big names in the industry unveil their upcoming releases and project  s in development.  I'm talking about Sony, Nintendo, Microsoft, EA, Activison, Capcom. THQ, Konami. . . . you get the idea.
This is the event where we all find out what's that release date going to be, what's the price going to set at, what the new trailer looks like, and which rumors where true.  If there is ANYTHING to look forward to this June, it has to be at E3!
Some of the big news to look forward to this year comes to us from Nintendo.  Their new console was revealed at last year's event and there have been plenty of questions about it.  When does it come out?  How much will it cost?  What does the hardware consist of?  How does it actually work? 
My 1st prediction of E3 is the Wii U will be a welcomed change from the Wii, but it will still play catch up to the 360 and PS3
The Wii was a culture phenomenon, not doubt about it.  Everybody and their grandparents were playing it.  It became embedded into our pop culture and revolutionized the idea of motion controls.  It was innovative and gave Nintendo back it's aura of being synonymous with video games.
However a lot has changed since the days of 2006 (when the Wii launched.)  Both the 360 and PS3 have made significant strides in motion gaming and, especially in the last 3 years, both have seen the release of many critically acclaimed titles.  Titles that would be impossible to run on the Wii's hardware.  How many times have you seen a game come out that is NOT available on the Wii? Shall I make a list?
The bottom line is that in order to compete with the next generation of consoles, the Wii U will need to have the same games as everyone else.  There will always be Mario, Zelda and the rest of the Nintendo family to fall back on, but with so many original exciting IP's in development, the Wii U will need to deliver on it's promise of having the games to sell the console.
During their press conference last year, Microsoft really put an emphasis on the Kinect being a family-oriented system. Whether it was a Sesame Street game, or a Disney based title, a lot of images of kids and parents playing together stood out for me.  Being a father myself, I can appreciate what the Kinect can offer for family fun.  However, there is also the true gamer inside me who scoffs at the idea of playing "family friendly" games, as opposed to more mature-based games.  It makes for an interesting debate, is the Kinect really meant for only family fun?
I also remember many media streaming services like Netflix, YouTube and even UFC were announced for the 360.  Having more of these services being seamlessly integrated with the console is really changing how gamers use their 360.  Not just for games, but for nearly all entertainment purposes.  With Halo 4 being released for November, and no plans for a new console, (at least not that we know of) I believe that Microsoft won't be there to steal the show @ E3 2012.
My 2nd prediction of E3 is that Microsoft will stick to what is working, and continue to push the 360 as all purpose entertainment console.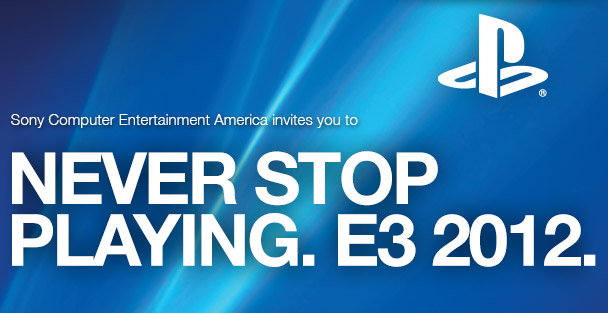 The last big company to expected to make noise is Sony.  Unlike 2011, there isn't any kind of scandal or controversy overshadowing them heading into E3 ( thank you PSN hackers).  In fact, it is quite the opposite!  There is an abundance of first party titles that have already been announced.  God of War Ascension, The Last of Us and Playstation All-Stars Battle Royale just to name a few.  The future is looking good for PS3 owners, even though they are nearing the end of the console's planned 10 year life cycle.
I also believe that Sony will continue to try and push the PS Vita.  It hasn't been selling the units it was expected to, and with the mobile gaming market seemingly shifting towards smartphones, they will need to really to convince the consumer it is a worthy investment.  Whether it is through a price cut, or a stronger library of titles that will be announced, I predict that the PS Vita will be a big part of their presentation.
For my final prediction of E3, Sony will put heavy emphasis on their first party titles, while trying to make the PS Vita seem relevant in the mobile gaming market
All in all I expect E3 to be just as entertaining and exciting as each year's previous event.  This is the premiere event in gaming, and is always full of surprises.  For 3 glorious days,  we will be glued to our TV's, desktops, laptops, tablets and mobile devices to get the scoop on what the gaming future has in store for us!
Enjoy the show everybody!